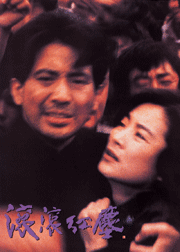 Production Year: 1990
Genre: Drama
Language: Mandarin Cantonese
Director: Yim Ho
Starring: Lin Chin-Hsia,
    Chin Han,
    Maggie Cheung,
    Richard Wu




1990 Taipei Golden Horse International Film Festival
The Best Picture
The Best Director
The Best Actress
The Best Supporting Actress
The Best Director of Photography
The Best Art Director
The Best Costume Designer
The Best Music Composer 1990 British International Film Festival - The Premier Show

Early 1940's.
When Zhaohwa falls in love with a young man against whom her father objects, she is forbidden to go out. She then becomes obsessed with books and literature.

After her father dies, she becomes a professional writer. She met a youngman Zhang who admired her talent and they soon fall in love.

Zhang works for the Japanese government and has never tried to hide this from Zhaohwa, who, out of love, has turned a blind eye to this fact.

1945, Japan surrenders. Being a "collaborator", Zhang escapes to the country-side. When Zhaohwa looks for him, she is heart-broken to find that he's having a brief affair with the landlady.

In Civil War, People are desperately seeking to flee. In a night of confusion and arrests, Zhaohwa runs into Zhang again. In spite of spitting out all her anger at him, Zhaohwa finds herself still irredeemably in love with Zhang ...
(In Collaboration With Chan Chun Film Studio)